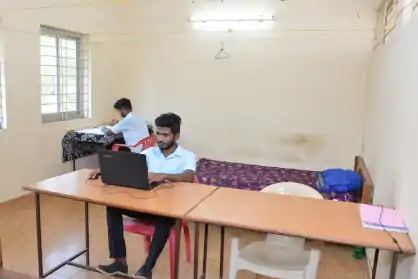 Institute of Shipbuilding Technology Goa has the hostel facility for the students, which can be availed by paying nominal fee per semester. The students staying far distance can stay in the hostel in turn saving the travelling time which can be used for better purpose. Students are required to abide with the rules & regulations of the hostel.
Hostel at ISBT Goa is a two storey building with 17 rooms, where each room can accommodate 3 numbers of students. In total 51 numbers of students can be accommodated in the hosted. The hostel accommodation is done on the basis of distance of student's residence from the Institute. The students staying far distance will be allotted the hostel room first and next onwards.
The hostel facility at ISBT is equipped with spacious rooms for the boys, well maintained and provided with the basic amenities. The hostel block has canteen facility where the students can have food at subsidized rates decided by the Institute. It is also equipped with gymkhana facilities like table tennis, carom board. It also has a computer and TV room.
- Mr. Balasaheb S. Patil (Lecturer in Mechanical Engineering)
Hostel In-charge